If you were told that you could travel 10 miles from one Northeast Tennessee city to another without a vehicle or even a road, well, you might not believe it. But that's exactly what you can do on the Tweetsie Trail, a Rails-to-Trails project that links Johnson City and Elizabethton via a flat, car-free path. The Tweetsie Trail covers low forests, passes over creeks and bridges, and visits rock formations while carrying you from one southern city to another. We've highlighted things you shouldn't miss along the way.
Trail History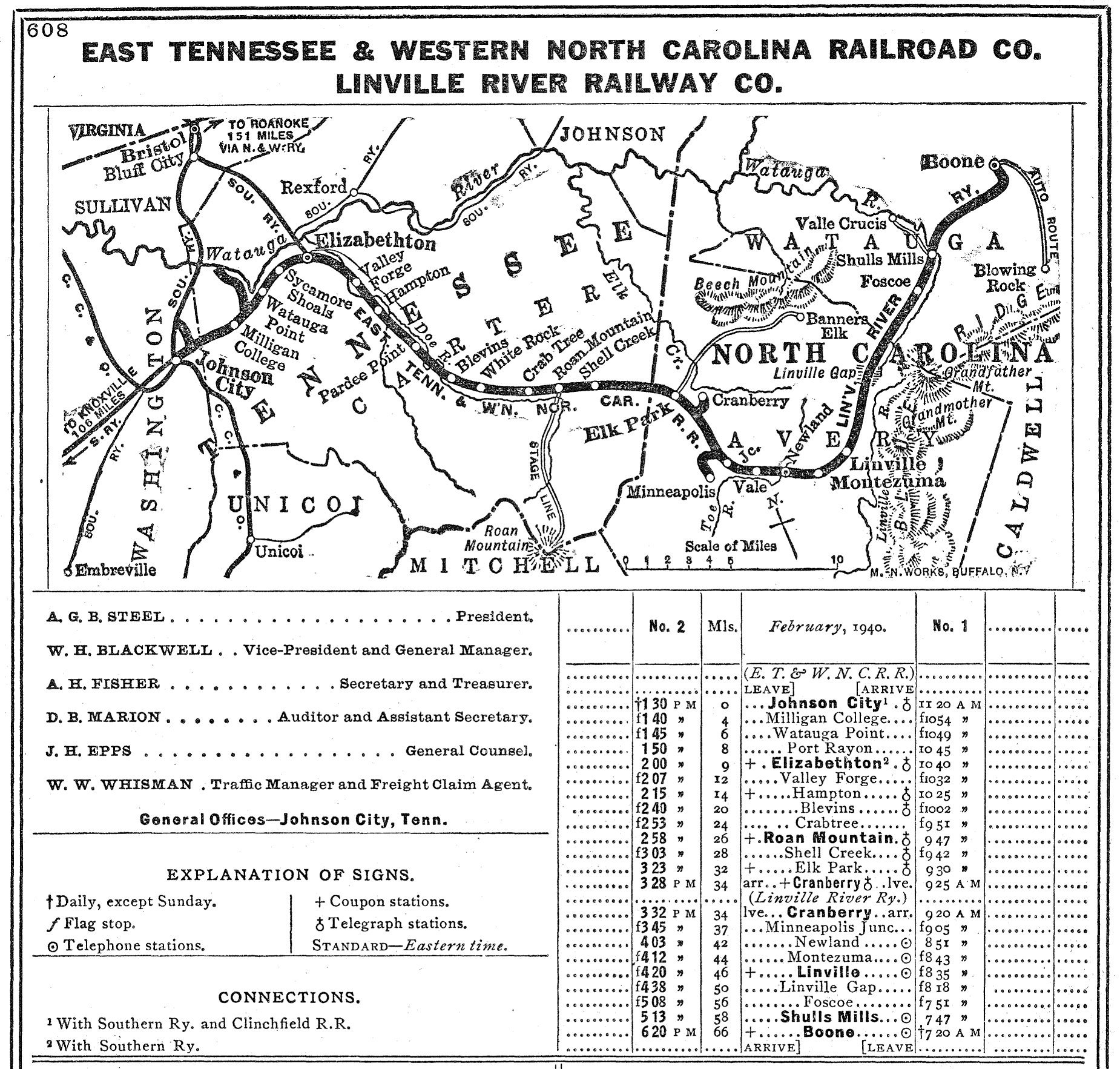 An official, 1940 system map of the East Tennessee & Western North Carolina Railroad provided by american-rails.com.
In 2003, a railroad line connecting Johnson City and Elizabethton fell out of use. Rather than letting it sit abandoned, locals put the railbed to good use through Rails-to-Trails, a growing nationwide effort to convert old railroad beds into recreational paths.
Originally known as the East Tennessee and Western North Carolina Railroad, the line that the Tweetsie Trail follows was constructed in the late 1800s between Johnson City, Tenn., and Cranberry, N.C., to transport iron ore and timber. Eventually, it was extended to Boone, N.C., for a total of about 66 miles through the rugged Doe River Gorge in the Appalachian Mountains. The railroad was affectionately nicknamed the Tweetsie because of the whistle's bird-like sounds, and this epithet lead to the naming of the Tweetsie Trail.
On the Trail
While the recreational trail is popular for hiking and running, the best way to experience the trail's entirety is by bicycle. The 10-mile path is relatively flat, making for an easy one-way ride or a more intensive two-way trip. If you don't have or can't bring your own bicycle, you can rent one at Local Motion Cyclery or Trek Store, both in Johnson City.
The trail is a mixture of pavement and packed gravel, with restrooms, benches and mile markers. Along the way, you'll find various points of interest, beautiful mountain views and plenty of opportunities to stop and take it all in. Be sure to bring enough water and snacks for your time on the trail, and keep your pets leashed at all times.
Begin your journey on the Tweetsie Trail beneath the arch at the official trailhead on the eastern edge of Johnson City. Within your first half-mile, you'll encounter two small bridges at Fletcher Crossing and Sinking Creek.
At the Sinking Creek bridge, you can take a small detour from the trail and follow the signs to Jacob's Nature Park. Here you'll find about a mile and a half of hiking trails that wind around the lush banks of Sinking Creek and are perfect for a gentle stroll.
Back on the Tweetsie Trail, your next major milestone is a long, enclosed bridge that passes high over U.S. Highway 321. From there, you'll cruise easily through woods and residential countryside, crossing over Catbird Creek, which meanders near the trail. At about 2.5 miles, make a pitstop at Milligan Depot, a replica of the original train station that once served the area. Here there's a shaded bench and information on the historic rest stop, as well as a gorgeous view of the distant mountains.
Continuing on a half-mile, you'll find another lovely overlook at the Cranberry Quarry, where there's also a large pavilion perfect for a snack or a picnic. The next mile or so will lead you through the forests and fields of Happy Valley and over Buffalo Creek to the edge of Elizabethton.
At just over 4 miles into your trip, take another detour from the Tweetsie Trail to visit the Sabine Hill State Historic Site. This early 19th century home was built by General Nathaniel Taylor, and, thanks to a group of passionate locals, is now preserved and open to all.
The next leg of the trail wanders through the residential outskirts of Elizabethton to your next stop at Sycamore Shoals State Historic Park, which was home to several important events in the settlement of America and the Revolutionary War. This is a good spot to hop off your bike for a break. You can check out exhibits that detail the history of the area and stroll the 2-mile Mountain River Trail on the Watauga River bank before hopping back on your bike to continue on your Tweetsie adventure.
From the park, the trail sidles up to the highway that leads into historic downtown Elizabethton. At mile 8, take a small detour down Hattie Street to visit the town's covered bridge, which was considered an "engineering feat" at the time of its construction in 1882, and is the oldest bridge of its kind still used by pedestrians.
Once you return to the Tweetsie from this historical excursion, you can either finish out the last mile or so of the trail which tapers out on the south side of town, or go ahead and call it a day in downtown Elizabethton.
Post-Adventure Fun:
After your day exploring the trail, you'll find yummy treats and java in Elizabethton at The Coffee Company. For a heartier post-adventure meal, enjoy pizza and live music at Jiggy Ray's Downtown Pizzeria, stop in J's Corner for burgers, barbecue and all the fixin's, or go for down home cooking from The Southern.
If you choose to conclude your Tweetsie day back in Johnson City, you can't go wrong with craft beers – sample from local breweries all in the downtown district. Depending on your craving, sit down to super fresh tex-mex at Holy Taco Cantina, traditional German fare at Freiberg's or revamped Southern classics at Southern Craft BBQ.
The beauty of the Tweetsie Trail is that it caters to anyone and everyone, regardless of, age, ability or experience. Whether you choose to walk, run or bike, to explore each mile or only small sections, you're sure to have a wonderful outdoor experience on the Tweetsie Trail and learn something about the region's history along the way. As you wind easily through forest and countryside, glimpsing the Appalachians on the horizon, you'll feel like you're right in the heart of Northeast Tennessee.
Leave No Trace

Remember to leave our trails with no trace, so adventures can last a lifetime.
Trail Map:


Additional Information:
Visit Johnson City
603 E. Main St.
Johnson City, TN  37604
423.461.8000
Tour Carter County
500 Veterans Memorial Parkway
Elizabethton, TN 37643
423.547.3850