A free outdoor recreation festival in Northeast Tennessee is back for a second year and it's called Meet the Mountains. Festival organizers say the mission is in the title. 
"The festival promotes healthy and active lifestyles," said Kayla Carter, a member of the festival planning crew. "We want people who attend the festival to leave having discovered a new place, having learned about a new activity or having found the right gear for their outdoor adventures."
On August 23 and 24, Founders Park in downtown Johnson City, Tennessee will serve as basecamp for outdoor enthusiasts to find the people and resources to help them navigate Northeast Tennessee's vast natural landscape.
The festival, which is presented by Ballad Health, will host outdoor brands, local outfitters, non-profits and other businesses and organizations serving the outdoor community as vendors. Local craft beer will be served each day and each night will be capped off with live music.
"In our Blue Ridge Outdoors Marketplace Zone, there will be a gear swap and Mahoney's Outfitters is sponsoring a silent auction called Gear for Good," said Carter. "The rest of the festival is organized into three zones: Academy Sports Earth Zone, USA Raft Adventure Resort Water Zone and NETWORKS Partnership Air Zone."
Activities in those zones include a zipline, kids bike skills and obstacle course, slacklining, axe throwing, a climbing wall and demo pool for trying out various paddle sports.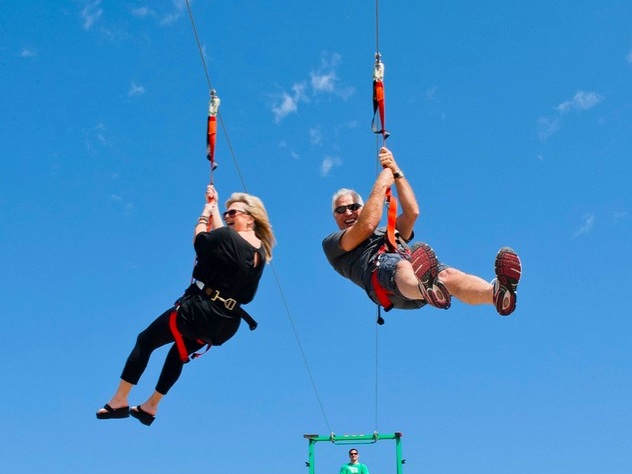 "This region has so much to offer in terms of land and water based adventures, even more than I thought," said Matt Moses, owner and operator of USA Raft Adventure Resort. "I really hope this festival helps our local residents get outside more often and enjoy all of the amazing natural assets we have."
The Ultimate Air Dogs event, a crowd favorite last year, will also be back again, Carter said. In addition to all the exciting on-site activities, the festival also cross promotes off-site events and activities in surrounding cities throughout the region, so be sure to check out the website to find races or hikes to do in the area before going out to the festival.
"I'm excited to see how the festival will continue to expand regionally," said Dana Glenn, director of marketing and business development for NETWORKS Partnership. "By eventually showcasing all eight counties in Northeast Tennessee, it will paint a full picture of our region and the assets it has to offer. I had no idea just how many outdoor recreation groups existed. There truly is something for everyone. I hope to see the festival attract both people and businesses to Northeast Tennessee."
There is something special about being among other like-minded people and identifying common interests, Carter said. She hopes that people who attend the festival will make friends with which to go out and enjoy the outdoors together.
"I really enjoyed the opportunity to see so many people who also appreciate and value our outdoor quality of life," said Mary Ellen Miller, TVA's community relations program manager. "[The festival is] a very professional representation of the many outdoor activities available in our region. I liked the way it had events attractive for young families like the climbing wall and the kids bike circuit."
It's important to mention that the festival also serves as a fundraiser for grant-making purposes. This would not be possible without sponsors like TVA, BrightRidge, East Tennessee Foundation, Johnson City Convention and Visitors Bureau, Food City, Washington County Health Department, East Tennessee State University, and Modern Woodmen of America for covering the cost of all the expenses, Carter said.
"With the proceeds, we plan to invest back into our outdoor recreation economy and industry," Carter said. "We are looking at funding four focus areas that include infrastructure, entrepreneurship, stewardship and professional development."
For more information, go online to www.mtmfest.com or follow the festival on Facebook [@meetthemountainsfest] and Instagram [@mtmfest].