It was June 1947, when the first festival along the mountain tops of Northeast Tennessee dedicated to the bright blooms of the Rhododendron took place.
The Roan Mountain Rhododendron Festival has grown in to a weekend event that folks from all over the United States anticipate, as mother nature works her magic and produces the type of scenery that you just have to see with your own eyes.  And, the 2017 Festival is timed just right, as the Catawba Rhododendrons are expected to be in full bloom June 17 and 18. The Festival was conceived and is carried out by the Roan Mountain Citizens Club as a two-day celebration to memorialize and perpetuate one of the most gorgeous displays of natural beauty on the North American continent.
Originally, the nature inspired event was held at the top of Roan Mountain. But, in recent years it has relocated to accommodate large crowds and to include more activities at Roan Mountain State Park. This year's Festival features handmade crafts, food, and a variety of traditional music, plus an array of old-time folkway demonstrations.
The Wow Factor
Visiting the world's largest natural rhododendron gardens atop 6,000-ft Roan Mountain is worth the trip, but you'll also hike the Appalachian Trail as it runs along the border of Tennessee and North Carolina. Visitors can also connect with nature as they relax beside cool streams that run through the numerous hiking trails within the park. You may even decide to make a full weekend out of the Festival by camping at Roan Mountain State Park or stay in one of their rustic cabins.
What to Expect
The Festival takes place Saturday and Sunday, June 17 and 18 from 10 a.m. to 5 p.m. both days. Admission is free. Browse more than 100 local arts and crafts vendors, listen to mountain musicand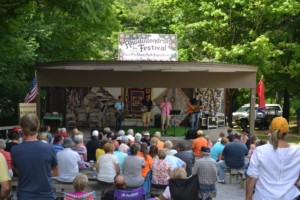 sample a variety of  tasty food. The Citizens Club will also feature Roan Mountain cookbooks, merchandise and official tee-shirts A Mini-Auction for Scholarships for Cloudland High School Graduates will be conducted between music performances.
Location
Roan Mountain State Park, Hwy 143, Roan Mountain, Tennessee (Between Asheville, NC, and Johnson City, TN on US HWY 19-E, and only 40 miles from Boone/Blowing Rock, NC, and 20 miles from Banner Elk/Beech Mountain/Linville, NC) Also, the Appalachian Trail, as well as an official Tennessee Scenic Route runs through the area.
Parking
Parking by donation to local civic group, admission, demonstrations, and entertainment all day both days.
Information
Roan Mountain Citizens Club – www.roanmountain.com or email rhododendronfestival@yahoo.com
Roan Mountain State Park – www.tnstateparks.com/parks/about/roan-mountain
Elizabethton/Carter County Tourism – www.tourcartercounty.com or call (423) 547-3850
Lodging
Roan Mountain State Park – www.tnstateparks.com/parks/cabins/roan-mountain
Elizabethton/Carter County Tourism – www.tourcartercounty.com/lodging/index.html or call (423) 547-3850